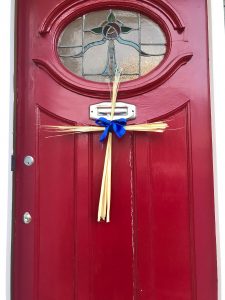 Palm Sunday will certainly be very different this year – how will you be marking it? One visual idea is to attach a bunch of  green branches outside of your home symbolising palms – if you are able to do this and can take a picture  (pictured from a St Anthony of Padua parishioner) and send it to me, perhaps we can share our collective palm celebration on the website. Archdiocesan resources will also be available.
A new initiative that Jo Wallace, the Pastoral Associate in Standish and Wigan (and parishioner of St Wilfrid's, Garston) is launching is called "Pray through Play".  You can access it through our website.  She gives some very simple activities you can do as a family using what you have at home: Lego, kitchen rolls, paper etc.  If you are able to  create any palms or Lego scenes etc send me your pictures as we continue to connect with each other as one worshipping community.
Live Streaming new this week:  the FCJs invite you to join them on Facebook Live for a short prayer every evening at 8pm.  If anyone wishes to receive physical copies of any spiritual resources, do let me know.  Don't forget any prayer requests to Carmel can be made via the website.
Checking up on those who are not online is especially important at this time.  "Helping one person might not change the world, but it could change the world for one person" Anonymous. Stay safe and be assured of my prayers for you and your families. God Bless, Helen